Family-owned since 2009, Urban Fitness is Galveston's no judgment gym. Do you have fitness goals you want to achieve? Our dedicated personal training staff is here for you. Do you like to move to your own beat and routine? We respect your space. No high-pressure sales tactics; you dictate the experience that works for you. Our goal is to offer high-quality equipment in a motivating and clean environment for all levels of fitness.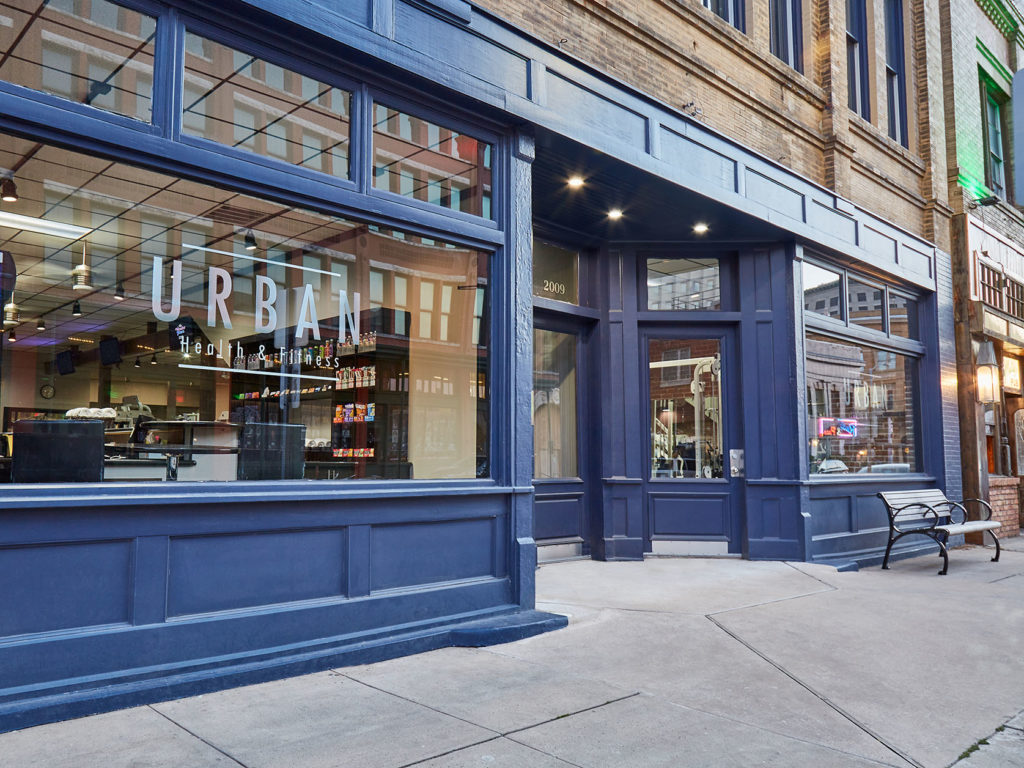 Frequently Asked Questions
How do I renew my membership online?
To renew your membership on the website, navigate to the Membership Renewal page and click the "RENEW" button under your desired plan. IMPORTANT: When prompted to sign in, DO NOT create a new profile. (If you create a new profile, your key FOB will no longer work). You already have a profile in our system, please sign in with the email you provided us when first signing up at Urban. If you do not know your login info, click "Need new password?" and input your email. Follow the steps to login to your account and complete the renewal process. 
What are the hours and address?
Urban Health and Fitness is open 24 hours however our staffed hours are 10a-7p M-F & Saturday 10a-1p.

2009 Postoffice St. 1st Floor
What is the cost of membership and is it a contract?
Do you have showers & lockers? Do you provide locks?
Yes, we do have showers and lockers. We do not provide locks, however lockers can
be rented by the month or you may bring your own lock for the day.
How do I purchase a key FOB?
Please visit us during our staffed hours (10a-7p M-F & Sat 10a-1p) and purchase a key FOB from the front desk. 
How can I change my credit card on file?
Login to your account, go to "Account Info" > "Payment Info" and edit your credit card info. Login to your account here:
How do I cancel a membership?
How do I add a member to my contract?
To add a member to your contract fill out the form on this page: Add a Member
Do you give out day passes, and if so how much?
Day passes can be purchased individually or by the bundle. Work out for the day for $15 or purchase 10 or more day passes for $9 per day (also requires purchase of a FOB for $10). One day pass must be purchased per person and more than one person may not share a pass. Day passes expire after 6 months.
Are the classes included in my membership or are they an additional cost?
No, classes are additional. Check rates here.
Is there childcare?
We do not provide childcare at Urban Health & Fitness.
What are the prices for personal training?
Personal training prices vary based on the amount of sessions purchased, the frequency of training, the length of each session, and the amount of people participating in the session. Pricing can be found here.
When joining the gym can someone show me how to use the equipment free of charge?
No, however 3 personal training sessions with one of our available trainers can be purchased as a one time offer for $99.
What age can a child workout supervised and unsupervised?
The age limit for membership without accompaniment of parent or guardian, during staffed hours is 16. A Valid ID photocopy is needed for confirmation as well as a  waiver signed by a parent or guardian.
Outside of staffed hours, you must be 18 or older to enter the gym.
Children age 14-15 must have a parent or guardian present and sign a liability waiver. 
Children under the age of 14 are not permitted in the gym. 
What is the parking situation at Urban Health & Fitness?
Downtown parking rules apply for Urban Health and Fitness. We do not have a parking lot available specifically for the gym.
What is the busiest time of day?
Lunch time and evening hours are the busiest time of the day.